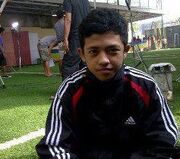 Rizal
is the one of the main antagonist of the show (At first) and a recurring character (Next). He is a member of Martin's team at first, his second team is Magic Eagle, and his third team (Now) is Team 1000 Island.
Appearence
Edit
Rizal has an ordinary Indonesian people look, and now he often seen wearing a white peci.
Personality
Edit
Rizal at first is a very cocky person just like Martin. He is also arrogant and cruel. Rizal assumes Madun is his enemy. After joining a club in his school, Rizal becomes more mature and wiser. He also turned kind.
Rizal is an excellent soccer player, but was blocked by his arrogant and cruel personality. He is the former member of Martin's team. After quit, he is now the leader of team Magic Eagle. He even more cruel than before and always offers strong members of other team to go in his team. Rizal closes up the team after he joined a boarding club in his school. He now becomes a member of Team 1000 Island Team.
Techniques
Edit
Rizal is the first member of team Jumbo Crocodile that decided to quit. The second is Fatur, and the third is Ruslan (Kempes).
Rizal is one of Madun's ultimate rivals, the others being Martin.

This ultimate rival relationship can be seen as the Tendangan si Madun counterpart of Ginga and Kyoya's relationship from Metal Fight Beyblade.

However, the only different is Ginga and Kyoya did not end their rivalry while Madun and Rizal does it.